Do you find it difficult to write with your husband, Randall Sykes?  Honestly don't think I could work like that with my hubby.
It's actually fairly easy.  In fact, I'm convinced writing improved our marriage.  Randy retired pretty early and without any real hobbies to keep him occupied.  I suggested he start writing—more as a desperate attempt on my part to give him something interesting to do.  Some might even say I did it to keep him out of my hair, but I would vigorously deny such a scurrilous accusation.
Do you find it difficult to work with Vanessa, Randy?
Sadly, Randy tends to disappear when it's time to do interviews.  He's rather a shy person so he leaves this stuff up to me.  Of course, I would never DREAM of saying anything he wouldn't agree with.  Oh, and Randy says he doesn't find me difficult to work with at all.  He insists I'm the easiest person in the world to get along with.  Really, he said that.
Economics, labor economics no less, and romance writer are poles apart!  What spurred the foray into romance, and why romance?
Randy and I both worked for a trade union before we began writing, which does seem pretty dry compared to romance.  But historical romance has always been a genre I loved to read, so when I began writing I naturally gravitated toward that.  Randy followed me a few years later.  At that point, I had discovered a real love for contemporary romance.  Since Randy is a sports fanatic, we figured writing some romances with athlete heroes was a good fit.
Does Randy read over the male pov and bring a dash of reality?
Randy always writes the first draft.  I then take that draft and revise and polish it.  He's obviously very adept at male pov, and surprisingly good at female pov too.  I have to write the sex scenes, though.  They're just beyond him.
Are the sports and math themes Randy's contribution or do you also get into sports and numbers, Vanessa?
Both sports and math bore me to the point of weeping, so those topics are all his.
What is the best thing about working together?
We always have something interesting to talk about.
Worst thing?
When we disagree on the direction a book should take.  Fortunately, we can usually resolve those disagreements fairly quickly.
Why did y'all choose to go self pub with the V.K.Sykes titles?
Like many traditionally published authors these days, we wanted to write books that aren't necessarily in the publishing mainstream.  For instance, we were always hearing from editors that sports romances didn't sell.  Since we like writing sports romances, that was a problem.  But lo and behold, our indie published sports romances are selling very well.  Indie publishing allows authors to have complete control over the book, even past publication.  If a cover doesn't work—change it.  If a blurb isn't doing what you want it to do—change it.  And you always know exactly how many books you're selling and how much money you're taking in.  That part is truly awesome, since traditional publishers often make it very difficult to track royalties and income.  Royalty statements are famous for being some of the most confusing financial documentation you would ever want to see.
Your readers might be interested to know that I'm part of a group of traditionally published authors who are also branching out into self-publishing.  We're calling ourselves Rock*It Reads, and we have authors like Pamela Clare and Elisabeth Naughton in the group.  Rock*It Reads has all kinds of exciting things going on, including a partnership with Barnes & Noble.  We've just started a twice monthly review column on B&N Review, spotlighting the best in indie books.  You can find out all about us at www.rockitreads.com
Can you tell us a bit about CADDY GIRL, HARDBALL, FASTBALL, and FAST NUMBER?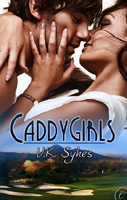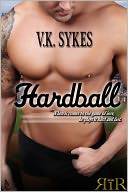 CaddyGirls was our first book, and it was published by Carina Press.  We really enjoyed writing that book and it reads a bit like a Harlequin Presents—alpha millionaire hero, spunky underdog heroine.  Fastball and Hardball are part of a series, and have two really sexy baseball heroes.  We'll definitely be writing more books in this particular series.
Hot Number is a bit different from our previous books, but it's probably our favorite.  It takes place in Las Vegas, and the heroine is a geeky math professor and the hero is a security chief at a big casino.  Sadie, our heroine, is looking for a blow-out week in Vegas to help forget her troubles at work.  But she very quickly generates mayhem, bringing her to the attention of Nick, the sexy security chief.  It's a very steamy book but probably our funniest book.  Sadie is a very endearing heroine, with a sharp wit and a tendency to get into a lot of trouble.

Is there anything special you'd like readers to know?
Yes, I wanted to let readers know I'm still publishing my Regency-set historical romances as Vanessa Kelly.  My next book, His Mistletoe Bride, will be released by Kensington Zebra on Oct. 1.  As you might deduce from the title, it's a Christmas book, which is always fun.  Stop by my website for a look at my beautiful cover and all the details.
Thanks so much Vanessa and Randy for visiting with me and Manic Readers.  I've really enjoyed it!
Vanessa and Randy are generously offering one (1) digital copy each of FASTBALL & HOT NUMBER.  Giveaway ends @midnight (12 a.m.) on 5-4-12. Meaningful comments only please!

Bio:  V.K. Sykes is really two people – Vanessa Kelly and Randy Sykes, a husband and wife team who write sexy contemporary romance. Randy excels at plot and characterization, but tends to fall down on the job when it comes to that pesky old thing called emotion. That's where Vanessa steps in. She usually writes the sex scenes, too, since Randy is a bit uncomfortable when it comes to that sort of stuff. Vanessa also writes Regency-set historical romance for Kensington Zebra under her own name. You can find V.K. on the web at www.vksykes.com, and Vanessa at www.vanessakellyauthor.com

V.K. Sykes on Facebook
Vanessa Kelly on Facebook