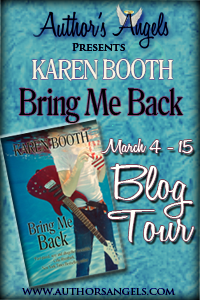 First off, I want to thank Ivy for inviting me to guest on Manic Readers. So excited to be here!
Thank you for taking the time to visit, Karen.
Who was your musical crush back in the day?
My teenage musical crush was John Taylor from Duran Duran. I was obsessed with a capital "O" with him. No other man could compare, certainly not the boys in my school. He was cool and handsome and had a smile that knocked the breath right out of me. I also genuinely loved his band's music, so it was perfect. Meant to be, right? There were photos and posters of him and Duran Duran all over my bedroom walls, always very artfully arranged. 
Now, I don't know if you've seen a recent picture of him, but let me just tell you that Mr.Taylor has aged ridiculously well. I suppose that raw charisma never goes away. Perhaps it only improves as the years go by. Either way, he is still totally swoon-worthy. I got to meet him twice in the last year and a half and I'm very proud of myself for not fainting either time (although my friend Sara did, but that's a story for another day).
It is important to note that JT is a part of the inspiration for my book Bring Me Back, which is about a music journalist who meets and falls in love with the British rock star she'd been obsessed with in high school. I had a dream about JT, more than ten years ago, completely out of the blue. I was married with kids at that point in my life and hadn't pined for him in years, but somehow he wormed his way into my brain. I was left with the idea for my book.  
Lucky you and I'd love to hear that story!
You seem to lean toward Brits. Why?
It's the voice. It gets me every damn time. I swear that a British man could deliver any bad news to me and I would be fine with it. Everything sounds better. Trust me. Imagine these things said to you by a man with a charming British accent:
"Your car is parked in a tow-away zone."
"It appears you have made a grave error on your taxes."
"I'm sorry to tell you, but that is not a mole."
See? I'm a total sucker for that.   
I love an accent too…British & Scottish are my favorites.
Do you miss working in the music industry?
I don't really miss it, although that was an amazing time in my life. That's a job best done by a young and energetic person who is no way jaded. That certainly described me then and most definitely does not describe me now. There are many late nights spent in bars listening to bands that only you care about. This sounds glamorous, but it gets old, fast. The music industry has also changed so much since I left that I'm not sure what I would actually do. I was once a booking agent, and they continue to do well because so many artists depend on touring as their bread and butter. The problem is that being a booking agent is the worst job I've ever had. I definitely don't miss that, although the money was nice. The last job I held in music was doing Film and Television licensing and I could probably go back to that, but it's a lot of dealing with lawyers all day long. I would much prefer to write.
Do you still go to concerts and who have you seen?
I do still go to see live music, it just doesn't happen anywhere near as much as it used to. I have, of course, seen Duran Duran many times, the first time having been 1984 and the most recent time having been 2012. The two bands I think I've seen the most are Soul Asylum and The Black Crowes. I used to work with Soul Asylum and they were my favorite band at that time, so I saw them any time I could, often a dozen or more times a year. My husband worked with The Black Crowes "back in the day", before they were signed. He used to help them book shows and is still very close with the three primary members of the band. I've seen them at least thirty times and it might be more. 
In the last year, I've seen Duran Duran, Chris Robinson Brotherhood, Afghan Whigs, Superchunk, The Roots,Jesus & Mary Chain, Built to Spill and The Backsliders, although I know I've forgotten something.
Have you become partial to Southern Rock?
 I really haven't become a convert to Southern Rock—the Black Crowes are about as close as I get. I definitely never liked Lynyrd Skynyrd. I enjoy some Allman Brothers stuff. This doesn't mean I don't like bands from the South! It just means I'm not partial to that particular genre.
I was never a big Skynyrd fan & the Allman Brothers never did anything for me.  There were so many other Southern bands I enjoyed so much more.
How do you like the South and do you use fatback or bacon grease in your collards?
I love living in the South. The people are amazing and there's such an incredible combination of old and new here. The weather is fantastic as well. I've gotten to the point where summer doesn't bother me much at all. I'm ready for fall in October, but otherwise, the heat is fine. 
As far as collards go, I don't use fatback or bacon grease. I make a stock using ham. It's a method I learned from Mama Dip, who owns the best Southern cooking restaurant in Chapel Hill,NC, which is where I live. You dice about a cup of ham, cook it up in a pan until some of the fat has rendered out and then add water. Simmer for 30 minutes and take out the ham and toss it—it's done its job. Add the collards to the liquid and braise on the stove top, covered. Salt and pepper to taste. I like a splash of red wine or cider vinegar on my collards before serving. Delicious!
Yep, I prefer the ham too & you can't eat greens without cider vinegar, at least I can't. Pa always added peppers to his vinegar, depended on the vinegar level how hot it was.
Thanks again for visiting, Karen.  I've enjoyed it!
Karen is offering one (1) lucky commenter a digital copy of one of her back list, winner's choice. "Who was your crush back in the day?" No answer, no entry so do tell. 🙂 
Giveaway ends @ 12am est 3-15-13 with the winner announced shortly thereafter.  Good Luck!
My review of BRING ME BACK..
Music critic Claire Abby is a single mom dreading her daughter's departure for college and worried that turning forty will leave her career running on fumes. She's floored when she lands a Rolling Stone cover story on 80s British rock legend Christopher Penman. She spent her teenage years fantasizing he was her boyfriend.  
In person, Christopher is everything Claire feared he'd be—charming, witty and unwilling to address the rumors he's dodged for a decade. Still, she contains her adolescent fantasies and manages to earn his trust, unearthing the truth and the devastating secret behind it. His blockbuster story is her first priority when she returns home, a nearly impossible task when Christopher starts calling and flirting. She knows she should maintain a professional distance. She knows she should focus on the story. She knows it would be best to simply walk away. But how can she say "no" to the man she could never forget?
Tour Schedule