I'm Gemma K. Murray, author of Keeper of the Golden Dragon's Heart, a paranormal romance set in the Upper Peninsula of Michigan.
I've always been a writer. From poems to stories, I've covered it all. It started at the age of twelve when the onset of teenage angst began. The things I wrote just seemed to evolve as I grew older.

You may ask, "Why write a paranormal romance?" Well, let me tell you, that was never my intention. I love to read paranormal romance. I just never dreamed I had enough imagination to create these wonderful worlds filled with supernatural beings. Then, I had a dream. It began with a beautiful man who would shift into a golden dragon and a curvy woman who was the child of a witch and a puma shifter. It was a dream where I didn't want to wake up. In one night, I saw this entire story unfold. I chose to ignore the gift I had been given. That was my first mistake!
Anastasia (my heroine) began to scream at me (in my mind) day and night. Any dream I may have had when I closed my eyes never came. Instead, I heard her voice in my head. My husband suggested I sit down and write it out. "Who knows what will come of it?" he said. So, I sat at my computer and began the story. I tried to make Ana a wolf shifter (this was my second mistake) and it came to a screeching halt. Without sounding too crazy, I'll just say there were some horrible arguments between Ana and myself. I erased forty-five pages of work and started it all over again. This time, I made Ana exactly as she wanted to be. It was around this time that the second voice appeared…the voice of Bowie (my hero). With his voice, the story flowed across the keyboard. The research was relatively easy and I simply wrote what I was shown. I don't sound too crazy, right? *grin*

When it was finished, I really liked the story. I sent it out to a few publishers with no luck. There was one, however,who loved it and here I am. The Upper Peninsula of Michigan is filled with so many interesting places and people. This village of shifters just seemed to fit here. I hadn't ever visited the U.P. when I had this dream. That was over a year ago. Before I began to write the story, my husband got a job in the Upper Peninsula and now I get to see this piece of heaven every single day. I fell in love with this place and the characters who first showed me what is possible.
Since the floodgate has been opened, there are three more Cedar River series books waiting (not so) patiently to be written with a spin-off series in the works as well. If you feel like taking a trip, come on up for a visit or you can always just pick up a copy of Keeper of the Golden Dragon's Heart.
If ever I'm starved for inspiration, I simply look out my windows. With Lake Michigan in the front and forest behind my cottage, I can find a story often hidden away somewhere beneath the water or under the cover of the trees.

Gemma is kindly offering 2 copies of her e-book, Keeper of the Golden Dragon's Heart, in either Kindle, Nook, or .PDF form (winners' choice).  Contest ends @12am est April 6th.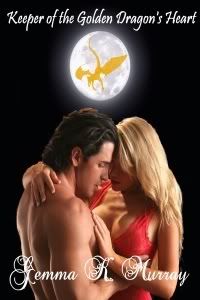 The Upper Peninsula of Michigan seems like it is another country. The rawness and beauty of the land draws people from every walk of life. What most people don't realize is there is a little town nestled on the banks of Lake Superior that an entire group of supernatural beings call home. Shifters of every shape and size live there. They raise their families there. Tourists come from near and far to visit the quaint town of Cedar River, Michigan. The tourists never realize they are walking among some of the most unusual beings on earth.
Bowie Golden is a dragon shifter who is in charge of Cedar River's safety. Until now, the biggest threat to anyone's safety was Anastasia Plum, a witch/puma-shifter. She has been the town hellraiser since she was a teenager. Now someone has discovered the secret the residents of Cedar River keep for one another. These radicals are determined to eradicate the entire town. It's up to Bowie to keep them all safe.
Ana has always idolized Bowie. She may have stirred up trouble from time to time, but Bowie or one of his brothers would always get her out of the trouble she was in. One day, it happened. The unthinkable, the unimaginable occurred. Anastasia Plum fell for the "golden" boy. What an unlikely duo- the sheriff and the hellraiser!
Just as these two discover their passion for one another, a group of people is determined to keep them apart. It's up to Ana to prove that she is the only Keeper of the Golden Dragon's Heart.