Cheryl, thank you for taking the time to join Manic Readers.  It's a pleasure to have you visit.
Wow, you have quite a few degrees, music, languages, education and a juris doctorate.  I was really surprised.  Why did you decide to try and become a writer?
I had two babies back to back, and it was simply too difficult and too expensive for me to go back into the workforce.  I was suddenly a stay-at-home mom, and I'd lost my income.  I was frantically trying to figure out what I could do from home to earn some money, but I'm not the type of person who could sell cosmetics or soap, so the choices were limited.
I was one of those people who had always wanted to write a book.  So I decided to give it a try.  I was fairly clueless about how difficult parenting would be, so I thought I'd have lots of "free" time while I was at home with my two babies.  I thought to myself, "I'll just write a book and sell it to New York.  How hard could that be?"
What I quickly learned is that it's pretty darn hard!  I took me four years and seven finished manuscripts before I finally got good enough where I sold one to a NY publisher.
You've racked up numerous awards and accolades.  Is there one that is especially near and dear?
There is a trade magazine called, Romantic Times, that covers the women's fiction industry.  They review all the books and cover the authors who are writing for the women's market.  Over the years, they have honored me with many awards.  Once, they picked me as "Best Storyteller of the Year" and another time "Top 25 Erotic Writers of All Time."  But probably my favorite was a double "KISS" award.
The KISS award is given out every month to the author who writes the most macho, yummy hero.  In my book, DOUBLE FANTASY, published in '08, I had twin brothers, so "twin" heroes.  I received a double KISS award for the pair.  My long-time reviewer at the magazine later told me that, in the magazine's 25 years of publishing, they had only given out two double KISS awards.  One to Linda Lyle Miller and one to me.  So I'm particularly proud of that accomplishment.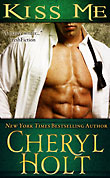 Can you tell us a bit about your contemporary ebook tirlogy~SEDUCE ME, KISS ME, and LOVE ME?  LOVE ME, the third and last released this month.
This series is about the three Merriweather siblings, Lucas, Dustin, and their younger sister, Brittney.  Their family is based in Colorado, where in the frontier days, their ancestors were pioneers, prospectors, and ultimately very rich gold miners.  They went on to parlay their mining strikes into railroads, real estate, and great accumulated wealth.
The three siblings are rich and entitled and spoiled.  They've had lives of leisure and pleasure and have always been wealthy enough to do whatever they want.  At the same time, they had crazy parents and horrid childhoods, so they have some big personal issues.
I like to write Cinderella stories, where a rich person meets and marries a person who is totally out of their societal structure.  When the hero and heroine are so different and come from such diverse backgrounds, it gives me bigger drama and issues to drive the story.
Lucas's story, SEDUCE ME, is about Faith Benjamin who had been housekeeper to Lucas's estranged grandfather.  When the elderly man died, he left Faith ten million dollars in his will.  Lucas is certain that Faith is a gold-digger who took advantage of a dottering old man, and he's determined to get the money back.
KISS ME is Dustin's story.  The family still owns a small town, high in the Rockies, where his ancestors made their first big gold strike.  He and Lucas have decided to sell the town to developers, so they can turn it into an upscale tourist resort.  The town's newspaper gadfly and pest, Amy Dane, thinks it's a horrid idea, and she's determined to stop Dustin anyway she can.
Brittney's story is the final one, LOVE ME.  At the beginning of the book, she's in Denver to plan her wedding to a rich, snobbish New York hedgefund manager who is her social equal in every way.  She thinks she's happy and ready to wed until she meets the man of her dreams, disabled veteran Matt Monroe.
Those sound really good! 🙂
How hard was it to go from print historicals to self pubbed digital contemporaries?
It was very difficult, but mostly because I just didn't know anything about the e-book market, and I had to learn an entirely new process.  It was very exhausting—and daunting!
When I decided to start writing e-books, I was clueless about the process, the readers, the devices, and the market.  I didn't know what would sell and what wouldn't.  I didn't know how you posted a book on-line.  I didn't know how you found readers.
My career in print publishing had been in writing historical love stories set in the Regency Period in England.  But I didn't know if that type of book would resonate with people who were using e-readers.  So I tried several different kinds of books—contemporary, nonfiction, Regency, medieval—and I was surprised to find that this contemporary series sold best of all.
I don't know why it did.  I've never done a demographic study on my fan base, but since I began writing e-books, I've learned that my fans are typically older and very devoted to print books.  They consider e-books almost an abomination.  But my younger fans, who are more tech savvy, have IPhones and Kindles, and they perfectly happy to read a book on an e-book device.  My younger readers seem to like the contemporary stories more than the historical ones, so that might be why they sold as well as they did, but it's all a guess and a mystery.  It's always been difficult to figure out why someone likes a book, or why they like one style or time period more than an another.
I've found too, though, that with each passing book that I post on-line, I'm selling more and more—even though they've all been different.  It's been interesting and frustrating and overwhelming, but I'm still plugging away.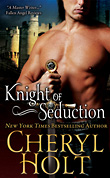 What about your medieval, KNIGHT OF SEDUCTION?   How was that different, research wise etc, from your other historicals?
I had never written a medieval before, but the story had been rattling around in my head for years, so I was finally able to write it down.  For years now, in the print market, the general opinion of publishers is that the medieval market is dead and that no one reads them, so I could never have sold one to a print publisher.  The e-book market gave me the perfect opportunity to write it and see what readers had to say.
The biggest issue for me wasn't the research.  I never do much research for my novels.  Although they are set in historical time periods, they are not centered around any specific historical events.  I simply need to learn the clothing, carriages, furniture, etc of the year that I'm targeting, and then, I can start writing.
The biggest problem for me in writing the e-book is that lots of our current version of the English language did not start to coalesce until after the Crusades had ended.  So lots of words that we use today were not part of the common vernacular.  I wanted to give the book a historical flavor, but at the same time, I wanted modern-day readers to be able to enjoy the prose.  For example, one of the common clothing items for a man during that time was a sort of knitted wool legging called "hose".  But it's such a modern word, meaning nylon stockings, that whenever I see it used in a medieval novel, the word always disrupts my attention.  It doesn't seem to belong, and it seems too feminine for the macho knights in the story.
So I had some trouble with getting the word usage just as I wanted it.  That was the hardest part.  But other than that, the book is very fun.
How did you come to be a part of Rock*It Reads?  Personally I think this group is a wonderful idea. 🙂
I was kindly invited to join Rock*It Reads by the other authors who were already members.  I was lured in at the best time:  after they'd done all the initial work and planning!  
When I received their invitation, I jumped at the chance.  As I started writing e-books, the great frustration for me has been the number of books that are available at Amazon and other sites.  I think there are now 2 million books available for download at Amazon.  And much of what's offered to readers is not very good.  The American novel, as it's developed over the centuries, is a very complex art form, and it takes many years of practice to learn how to put a novel together and how to make it great and fun and exciting.
I'm a great writer, and I can put a great novel together, but I've had years and years of experience to learn what I'm doing.  And I get better at it with each passing year and each new book that I put together.  The e-book market was frustrating for me because I couldn't see how to make my books stand out from the other 2 million that are sitting there, available for Kindle.  With the typical price for a download being 99-cents, my books were just heaped into the pile with everybody else.
I really wrestled with the notion of how I could let readers know that their 99-cents wouldn't be wasted if they downloaded one of my books.
The Rock*It Read group is composed of NY published authors, many of whom are bestselling writers.  We are dedicated to putting out quality stories that equal what we were doing as print authors.  We will all be putting the RIR logo on our covers so that readers who are searching on-line for a great e-book to download will know that an RIR book is a good bet.     
Are you excited about the infinite possibilities open to you with self pubbing?
I wouldn't say excited is the word.  Just as when I went into print publishing years ago, I'm tentative and wary and keeping my expectations very low.  If great things happen with the books, I'll be happy.  But as with every endeavor a person undertakes in her life, there are ups and downs, good days and bad, and I'm entering the market cautiously.
Is there any aspect of it that scares you?
Yes, that I won't figure out the market in a way that's financially sustainable to me.
Think you might attempt that romantic suspense book now?
I don't know if I'll ever do another suspense novel.  Once in my print career, I tried a very creepy, very scary erotic thriller.  It was titled SLEEPING WITH THE DEVIL, and released under the pen name, Vanessa Marlow.  But my publisher disliked it very much, so it became a very exhausting and unpleasant experience that left me with little energy to try any suspense again.  I'm a novelist, so it's typical that I don't have a lot of confidence in my work—it's a common artist's condition.  After the experience with my thriller, I convinced myself that I don't know "how" to write suspense, which is silly.  After the book was released, I received a national award for it from Romantic Times, when it was picked "Best Erotic Fiction of the Year."  But I can't bring myself to write another one.  
What is your favorite part of writing?
It's not actually the writing.  It's that I've been able to work at home and have a home business, all the years while my kids have been growing up.  They have always been very active, so I needed to be able to have a flexible schedule.  I wrote a lot of my novels while sitting in the car and waiting for soccer practice to end.
Least favorite?
It's extremely labor intensive, especially the editing.  I don't mind writing the rough draft.  I can usually crank it out in a month.  But the editing kills me.  It's like doing my taxes—it's that boring and detailed.  I can't do it while I'm tired.  I can't do it when I'm upset or busy or not focused.  Readers often imagine that a novelist's life is very glamorous, but the reality is that I work really hard to get my novels done, and I work all the time.
Is there anything special you need to get those creative juices flowing?
No.  Writing is a job for me in the same way that nursing or teaching is a job for somebody else.  And I've been doing it for 15 years now.  I get up in the morning, get my kids off to school, shower, dress, then sit down at my computer and work all day.  I always have a schedule of when my latest book has to be done, and I keep to that schedule. There are no creative "juices" involved.
What do you do to relax?
Relax?  What is that?  I don't think I know the definition of the word.
What was the last really good book you got lost in?
It was called Sacred Hunger by Barry Unsworth.  It's not a new book; it's 20 years old.  I stumbled on it in the fiction stacks at my local library.  It's a story about a merchant in England in the 1700s who had a ship built so he could go into the slave trade.  It details the journey down to Africa and everything that happened afterward once the slaves were aboard.  Everything that could go wrong did go wrong.  It was a grand, disturbing, wonderful novel.
Anything special you'd like us to know?
I was a print published author for many years.  But when the economy imploded in 2008, the publishers went into freefall.  Many, many writers were dropped by their publishers, and I was one of them.  Although I was a "bestselling" author, I never had the kind of big sales that print publishers are looking for now.  So I started writing e-books and releasing them myself, which I've been doing for the past year.
But I have one last print book coming to bookstores, which is a wonderful and very poignant event for me.  It's titled NICHOLAS.  It is one of my great, fun Regency Period historicals.  It was released last summer as an e-book, by e-publisher Samhain, so if any readers want to read it right away they can download it immediately.
                                                            Pre-order print from Amazon
At Samhain, after they release the title as an e-book, they go on and release it a year later as a print book.  So NICHOLAS will be available in stores and through Amazon and other on-line retailers.  It's Samhain's lead title for July, 2012, and it will be available for the 4th of July weekend, so readers can take a print copy with them for their beach holiday.
To celebrate this great and poignant occasion, I am giving away ten autographed copies of the novel in July after the book is released.  Readers can enter the contest on the homepage at my web page at www.cherylholt.com
Thanks so much for visiting with me and Manic Readers, Cheryl.  I've really enjoyed it!


Y'all can also find Cheryl at her Facebook fan page.  She also loves to hear from fans.  You can write to her at cheryl@cherylholt.com.