Throughout history, reapers have been portrayed with images of skeletal, hooded beings with wicked scythes, long boney fingers and vengeful demeanors.  Pretty much the opposite of sexy.
Needless to say, the reaper in The Five Deaths of Roxanne Love is not that.  The Angel of Death who comes to reap Roxanne Love is a sentient being who feels he's been cheated by her one too many times.  Roxanne is a miracle, you see.  She has died and been brought back three times in her life so far.  On the eve of her fourth death, the reaper decides that the only way to make sure she stays dead this time, is to come in person and do the deed himself.
He uses Santo Castillo—a grief-stricken police detective about to put an end to his own life to accomplish the task.  The Reaper delivers Santo's soul to its next destination, but he keeps the body for himself.  Impersonating the detective, the Reaper tracks down Roxanne.  But when he finds her, he discovers the task at hand is not so easy.  Now he has emotions to deal with and once he comes face-to-face with Roxanne, those emotions tell him to help her, not kill her.
Now nothing is clear for Santo.  Is he a man or is he an agent of death playing dress up?  Can he trust the emotions he's never felt before?  Or should he deny everything he feels?
Here's a little taste of the dilemmas this reaper faces:
He'd crossed from the Beyond, breaking the laws of the Otherworld to experience her death on both planes. He'd fantasized about it, waiting impatiently for the call that her time had arrived once again.

His plan had been simple. Fire for them both. End it all with flames that would destroy her human body at the same time it devoured the one he'd taken. It was easy. Clean. Irrevocable.

So why didn't he act?

Was it because he'd seen her now with human vision that discerned detail and dimension he'd never known as a reaper? Vision that perceived nuance and sensitivity? He'd watched the easy grace of her movements. Gazed spellbound at the way the light played off her creamy skin, glinted in the golds and rich browns of her hair. He'd caught her scent and it had twisted something inside him, making him want more.

Then she'd looked into his eyes and he'd felt . . .alive.

"Fuck," he muttered, liking the vulgar way the human word rolled off his tongue.

It made no sense, the knot of rage and uncertainty lodged just beneath his breastbone. Human emotions as invasive as a strangling vine. As dreaded as a reaper at a wedding.

Carefully, he settled Roxanne in the passenger seat of the vehicle, then shrugged out of his jacket and pulled it around her. She'd be cold when she came back.

He circled Santo's vehicle and got in on the other side. Gripping the steering wheel, he flexed his muscles, fighting the urge to strike out at something, anything.

In those first few hours after he'd taken the human, he'd felt trapped by the awkward form, but now the flesh and bone he'd stolen no longer felt heavy and cumbersome. It felt strong, powerful. A finely tuned machine of muscle and will.

Yet he was helpless to do anything but wait as he battled his doubt.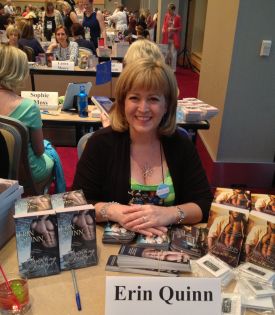 I hope you enjoyed this excerpt and decide to take the journey with Roxanne and Santo!
Erin is giving away a digital backlist title, winner's choice, to one (1) lucky commenter!  Sounds like Santo/Reaper~Agent of Death does have a problem.  What do you think of taking a figure like a Reaper and making them a hero?   I'm all for it myself…giveaway ends @12am est 9-1-13 with the winner announced shortly thereafter.
Erin Quinn is an award winning author who writes romance for the thinking reader. Her books have been called "riveting," "brilliantly plotted" and "beautifully written" and have won, placed or showed in the Booksellers Best, WILLA Award for Historical fiction, the Orange Rose, Readers Crown, Golden Quill, Best Books, and Award of Excellence. Go to www.erinquinnbooks.com for more information or follow Erin on Facebook or Twitter.