Hey all! Don't forget to enter the rafflecopter giveaway at the bottom of the page! I'm so excited to be here at Manic Readers celebrating the release of Wicked Edge! The hero in Wicked Edge is Daire Dunne, who's a tough witch enforcer on a Harley…and is totally grumpy. The heroine is a bit of a surprise. Cee Cee is a wild card who drugs Daire, steals from him, and then likes to rob banks. Of course, they're the perfect match! They just don't know it right away.
Somebody asked me the other day what a typical day was like, and I couldn't really answer since there are no typical days, you know? I get the kids off to school, answer emails, maybe look at social media…and then start writing.
Sometimes I have to do a bit of research instead of writing, and for WICKED EDGE, I had to do quite a lot. For one thing, some of the book takes place in the Barents Sea, so I had to figure out the area and the best place for a helicopter crash. I mean, you can't just crash those things anywhere.
Then I had to figure out just how dangerous polar bears are…and if they're likely to attack humans. (Turns out they are, by the way.)
Then I looked into decapitation, minerals in Russia, and Alpha male moves. Okay. I didn't look up the last one…I made that stuff up. But it's some good stuff, you know? Part of the fun in this job is the crazy research I get to do. Let's just hope Homeland Security isn't watching my search history, right?
Thanks again for having me over! I was asked what's next for me. I'm working on a new series called Scorpius Syndrome. The first book is MERCURY STRIKING, and it releases in January. The series is post-apocalyptic, gritty, and very sexy. The hero is Jax Mercury, who's a former L.A. gang member turned soldier, who has taken over LA to protect his small group of survivors from a bacterial infection. The heroine is Lynne Harmony, the former head of the CDC's Infectious Disease Department. Oh, and she has a blue heart now.
a Rafflecopter giveaway
 WICKED EDGE

Release date: November 10, 2015
Link to Website buy page: http://rebeccazanetti.com/bookshelf/wicked-edge/
Zanetti gives paranormal a sexy MC twist!"—New York Times bestselling author Joanna Wylde
"Zanetti delivers decadently delicious romance in the second Realm Enforcers paranormal motorcycle club romance  … The wild action rarely stops, sweeping readers along in the main plot while allowing a rich and satisfying romance to build between the leads."- Publishers Weekly STARRED REVIEW
"Zanetti's Realm Enforcers series is hot with a capital "H"! The characters are real and feel like people whom readers would run across – or hope to – in everyday life. This is a great read to add to your collection."- RT Book Reviews, 4.5 Stars Top Pick
 
Amazon Editor's Pick for November!
*****
If you love the Dark Protectors, these wicked hot Realm Enforcers are for you!
Daire Dunne is more than ready to take a quick break from his duties as a Coven Nine Enforcer. When he spots a sexy blonde across a Titan's of Fire party, it's not long before she's on the back of his Harley on the fast track to his apartment. Unfortunately, one overheated kiss in, the woman drugs Daire and steals valuable files that can't fall into enemy hands. The second he comes to, the hunt is on…
Now that Cee Cee has the information to take down an enemy that destroyed her family, she can implement her perfect plan for revenge. Nothing will stop her, not even a shockingly sexy enforcer barging into her life. Not even the spectacular, fire-branding sex engulfing them. But if Daire ever figures out who her family really is, all bets are off…
*****
MERCURY STRIKING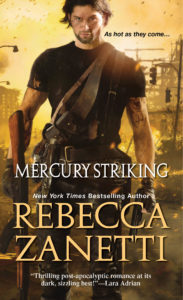 January 26, 2016 print and eBook release
Page for buy links: http://rebeccazanetti.com/bookshelf/the-scorpius-syndrome-series/mercury-striking/
With nothing but rumors to lead her, Lynn Harmony has trekked across a nightmare landscape to find one man—a mysterious, damaged legend who protects the weak and leads the strong. He's more than muscle and firepower—and in post-plague L.A., he's her only hope. As the one woman who could cure the disease, Lynn is the single most volatile—and vulnerable—creature in this new and ruthless world. But face to face with Jax Mercury…
Danger has never looked quite so delicious…
"Thrilling post-apocalyptic romance at its dark, sizzling best!" —Lara Adrian
"Nothing is easy or black or white in Zanetti's grim new reality, but hope is key, and I hope she writes faster!" —New York Times bestselling author Larissa Ione
New York Times and USA Today Bestselling author Rebecca Zanetti is the author of over twenty-five dark paranormals, romantic suspense, and contemporary romances, including the Dark Protectors, Realm Enforcers, Sin Brothers, and Scorpius Syndrome series. She lives in the wilds of the Pacific Northwest with her own Alpha hero, two kids, a couple of dogs, a crazy cat…and a huge extended family. She believes strongly in luck, karma, and working her butt off…and she thinks one of the best things about being an author, unlike the lawyer she used to be, is that she can let the crazy out. Find Rebecca at: www.rebeccazanetti.com
Author Website   Twitter     FB    Newsletter